We have researched successful longboard athletes in Turkey for you.
Here are Turkey's 10 Most Popular Longboard Athletes.
Behlül DOĞRUER 
Country: Turkey

Style: Downhill, Freestyle

Effective years: 2016- Present
Teams he left his mark on: Northernsun Boards
Who is Behlül Doğruer?
He is a very young athlete who has improved himself in the downhill style of longboard and can comfortably do skateboarding movements on a longboard. It reached a speed of 85 km per hour on the longboard board. Behlül, who is a professional athlete in the Northernsun Boards team, has been the Tekirdağ representative of Turkish Longboard for many years.
Enfal Altar Calapverdi
Country: Turkey

Style: Freestyle

Effective years: 2011- Present
Teams he left his mark on: Sector 9 Turkey, Skateboarding Turkey, Northernsun Boards
Who is Enfal Altar?
He is the professional longboard athlete who has received the most longboard sponsorship in Turkey. Enfal Altar, which can jump from very serious heights in freestyle style, especially in hippie jump and similar movements, achieved the highest score in European competitions by jumping from 1.55cm obstacles in 2018 Sportfest Freestyle & Dance competition. Enfal, who is among the founders of Turk Longboard as well as being a professional athlete for brands such as Sector9 Turkey, Buz24 – Loaded, Gargamel Kadıköy – Globe, Skateboarding Turkey – Gang and Northernsun, is one of the best ways to reach longboard sports in Turkey by working hard with his longboard organization. is an example…
Armağan Altun
Country: Turkey

Style: Downhill, Freestyle

Effective years: 2008- 2016
Teams he left his mark on: Landyachtz, Wooden, Bustin
Who is Armağan Altun?
He has been dealing with longboard sports for many years. He organized various longboard events in Turkey and also managed Longboard Turkey and similar organizations.
Elif Naz Doğan
Country: Turkey

Style: Dance, Surf Skate

Effective years: 2017- Present
Who is Naz Dogan?
Naz, ranked 3rd in Turkey in the Longboard Women's Open category at the 2018 Wave Surfing Turkey Championship held in Babalı Surf Village in Kocaeli's Kandıra district. In addition to this, there are 2nd prizes in the 18th and 19th Sportfest freestyle & dance longboard competitions, she.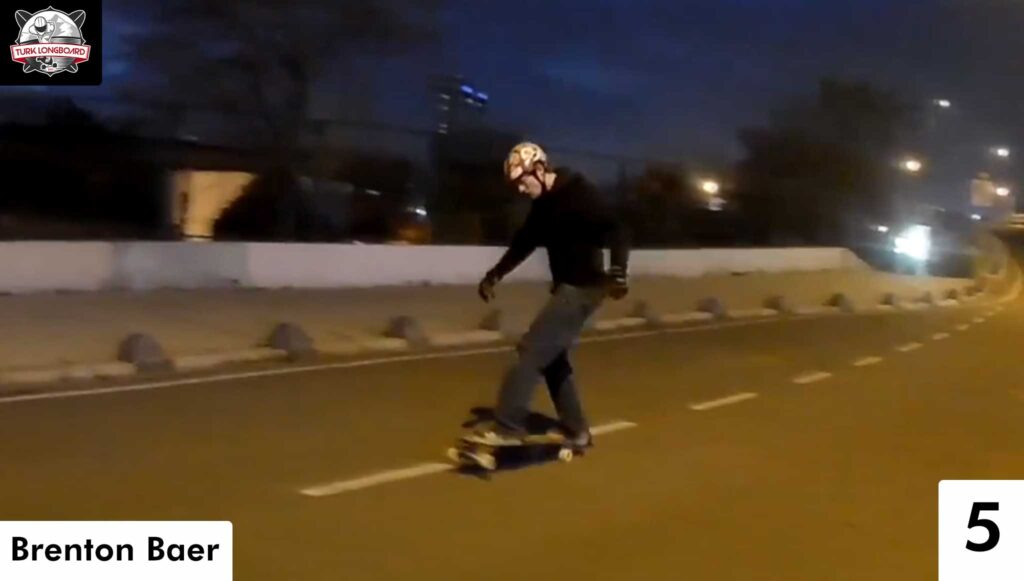 Brenton Baer
Country: America

Style: Downhill, Freeride

Effective years: 2013 – 2020
Who is Brenton Baer?
Brenton, a downhill freeride athlete of American origin, has managed to attract attention with his high speed and effective slide movements in downhill events for many years.
Hilal Baran
Country: Turkey

Style: Dance

Effective years: 2019 – Present
Who is Hilal Baran?
Hilal, who has been developing faster than expected in the longboard dance style, shoots videos related to longboard dance on social media. She is also the founder of the Skating Academy formation.
Onur Arkoç
Country: Turkey

Style: Surf Skate, Slalom, Pumping

Effective years: 2020 – Present
Teams he left his mark on: TSS
Who is Onur Arkoç?
It has shown a successful development in Surf Skate. He drew attention with his work on wave surfing and longboard downhill.
Sahin Mehin
Country: Turkey

Style: Freestyle

Effective years: 2018 – 2021
Who is Şahin Mehin?
Sports life started with Fitness and Calisthenics & Streetworkout. He started his business life with the company Vitamin Supplement and continues to coach in gyms. In 2017, he ranked 2nd in Turkey in Athletic Physics Young Men. Due to his sports background, he developed himself in the sport of Longboard quickly and became the 2nd in Turkey in the Sportfest Longboard Competition in 2019. He also shoots videos on training and motivation.
Ata Şener
Country: Turkey

Style: Freestyle

Effective years: 2014 – Present
Who is Ata Şener?
He is a professional Downhill athlete. Provides training on Longboard Downhill and Slide.
Doğukan Geçici
Country: Turkey

Style: Freestyle

Effective years: 2015 – Present
Longboard Akademi 2022 yılında workshop ve antrenmanlarına ağırlık vermeye başladı. Bu antrenmanlarda Kortan Kayra Söylemez, Anıl Sarıbaş, Tuğba Köroğlu, Hilal Keskin, Arda Cihan Kaya'nın gelecek yıllarda bu kadronun içinde olmasını bekliyoruz.
About Longboard Academy
Anyone who is curious about the sport of longboard, has an interest, and wants to skate longboard together can attend the Longboard Academy workshops. It doesn't matter to us whether you have a background in the sport of longboarding or not. The trainings organized by the Longboard Academy are on a voluntary basis, under the supervision of our professional longboard athletes. It is obligatory to bring protective equipment and a helmet to the participant who comes to the training or training. It is strictly forbidden to advertise brands or schools during training hours in the work area. Training day four days before @longboardakademi Announcements will be made on social media accounts. Training days and times may change due to weather conditions and similar conditions. In case of postponement, our colleagues will contact the participants two days in advance and inform them. If the participant regarding the trainings wants an individual program, he/she can contact our staff members.
* Turk Longboard, Live Steps, Longboard Academy are not responsible for individual trainings.
We recommend that you become a member of the Turk Longboard Community before purchasing your board.