Longboard There are many different variables when choosing the board. A lot of factors from sports close to us, such as 7.8 - 8.0 - 8.5 in skateboard, concaveler characteristics, how many layers of wood it is made of, come across when purchasing the board. On the longboard, this is even more complicated. Because boards that vary not only in width but also in length and even in shape are produced. If we do not master the styles of Longboards, the board we will buy at the beginning may not be the right choice for us, worse, it may cause us to spend again. There is an important thing to know when purchasing a longboard; Their Styles, Concaves, Shapes and Styles are.
For Beginners Longboard Advice Video CLICK
Styles of Longboard Boards
Top Mount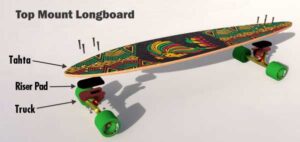 * It is a board style where trucks are connected from the bottom.
* Wheelbite (Wheel Bite) risk is high, but there are riser pads for this.
Drop Through



* It is a board style that trucks pass through from inside.
* The risk of wheelbite is negligible, but here the risk of Footbite is high.
Drop Deck
* Can be mixed with top mounts, but Drop decks are generally used for downhill, although they do not have through-through trucks.
* It has a more balanced structure compared to Drop Through decks.
Double Drop
* We can call it a mixture of a Drop Through deck and a Drop deck.
* It is closer to the ground than normal drop models.
* Trucks must pass through.
* When cruising with double drop models, these boards, which are close enough to draw the bottom, are generally preferred to go faster and more stable in downhill.
What Does Longboard Shape, Flex and Concave Mean?
1- Kick Tail: It is the feature that we can kick in the tail part of the longboard just like a skateboard, so that we can turn faster and if we have talent, we can pass the pavements with jumping movements like ollie.
2- Wheel Cut – Outs ( Wheel wells ): Your wheels are grooves where the wheel and the board come into contact to prevent wheel bite.
3 – Concave: Although longboard boards seem like a flat board due to sandpaper, they actually have a concave structure towards the inside. Thanks to this structure, the edges of the board will be higher and the middle lower. It makes an incredible contribution to how we grasp this board with our feet.
4- W Concave: Imagine that the board is in a W-shape when there is a rise again in the middle of the normal concave.

5- Flex: Tahtanın esnekliğidir insanların kilolarına göre flexlere ayrılır. Flex 1 en esnek olanıdır, Flex 2 orta ve Flex 3 en az esneme yapısına sahip olan yapıdır. Her markanın flexleri değişkenlik gösterebilir hatta bir çok marka flex özelliği koymadan kendine özgü tek yapıda boardlar üretebilir. Çok kilolu insan Longboard kullanamaz veya bu flexler olmaz gibi durumlar söz konusu değildir. Kullanıcının tercihine kalmıştır.
What are the Styles of Longboards?

When choosing Boards according to Longboard Styles, we need to be able to master the styles and follow the riders according to those styles. Because the best way to understand style is to watch videos of riders.

1- Downhill / Freeride

Loaded Tesseract Model

The sanders of the Longboards produced for this style are incredibly thick and can even cut your hand because the thickness holds your feet better. This holding event will be useful when shooting slides. Additionally, there are board models with gas pedals. While sliding, it creates the effect of pressing the gas. The wood you see in the picture is made for Downhill and has the features I have described. Their boards are usually produced from Canadian maple wood. Carbon fiber inserts are used in many Downhill longboards to lighten or strengthen the boards.
It is your choice to buy Drop or Top Mount. When you buy a drop, its balance will be higher than a ball mount. Since there is no risk of wheel bite, you will be equally comfortable in your turns. Downhill boards are very heavy, so crusing will make your feet more tired than normal boards.
2- Freestyle

Loaded Overland Model

For Freestyle, boards with a wide front and back (we can call these Nose and Tail) are generally preferred. Freestyle movements are more comfortable due to the long kick distance. It can be used preferably in Bamboo wood instead of Freestyle boards, which are mostly produced from maple. For example Loaded bhangra is a dance board. However, Freestyle style riders can use the board in 2 ways by combining dance and Freestyle style. Drop models with kick distance or ball mount boards with quite wide tail are preferred. Freestyle with the Downhill board will be really difficult. Because the lighter your board is, the more comfortable you can make Freestyle movements.
3- Dance

Loaded Bhangra Dance Board

Usually long boards are used for this style. In order to make movements similar to dance movements like pirouette more easily, sandpaper is not used in the middle of the board except for the Nose and Tail parts. Dance boards can be 52 inches long on average, boards made of maple or bamboo wood can vary in length according to user preference.
4- Slalom, Pumping, Carve

Top mount Pumper and Gbomb / Longboards owner: Turk Longboard Istanbul Member: Murat Natan

Pumping boards are usually preferred by many riders involved in surfing. In fact, their trucks are sold as surf simulation because the front truck has a different spring structure. We see long models of slalom longboards, which are much shorter than other boards, in members of our Turk Longboard Community.
5- Cruiser

Loaded Dervish Model
You can cruising with any Longboard board. If you are a Downhill riders and do not have any other alternative board purchases, it is possible to make a cruiser with the Downhill board. However, if your goal is to go from point A to point B quickly and comfortably, then you should choose wide wheeled and very light boards made for Cruiser. The wide contact patch of the wheels will allow you to go longer with one step. Drop models do not wet the bottom of your board when you enter the water, Wheel does not bite and I recommend you to choose Drop models in cruiser because you will make more comfortable carve movements.
If you are starting Longboarding for the first time, definitely join the activities of the Turkish Longboard Community and try the Longboards of the members. Watch videos of riders by Styles and be a close follower of at least 2 riders before making your final decision. Waves on Land!
Technical Terms
Wheelbite: attaching the wheel to the board, locking the wheels and throwing you off the board
Footbite: By pressing your foot on the wheel, the wheels lock and throw you off the board
Author: Enfal Altar Ç. @enfalaltarc
We recommend that you become a member of the Turk Longboard Community before purchasing your board.